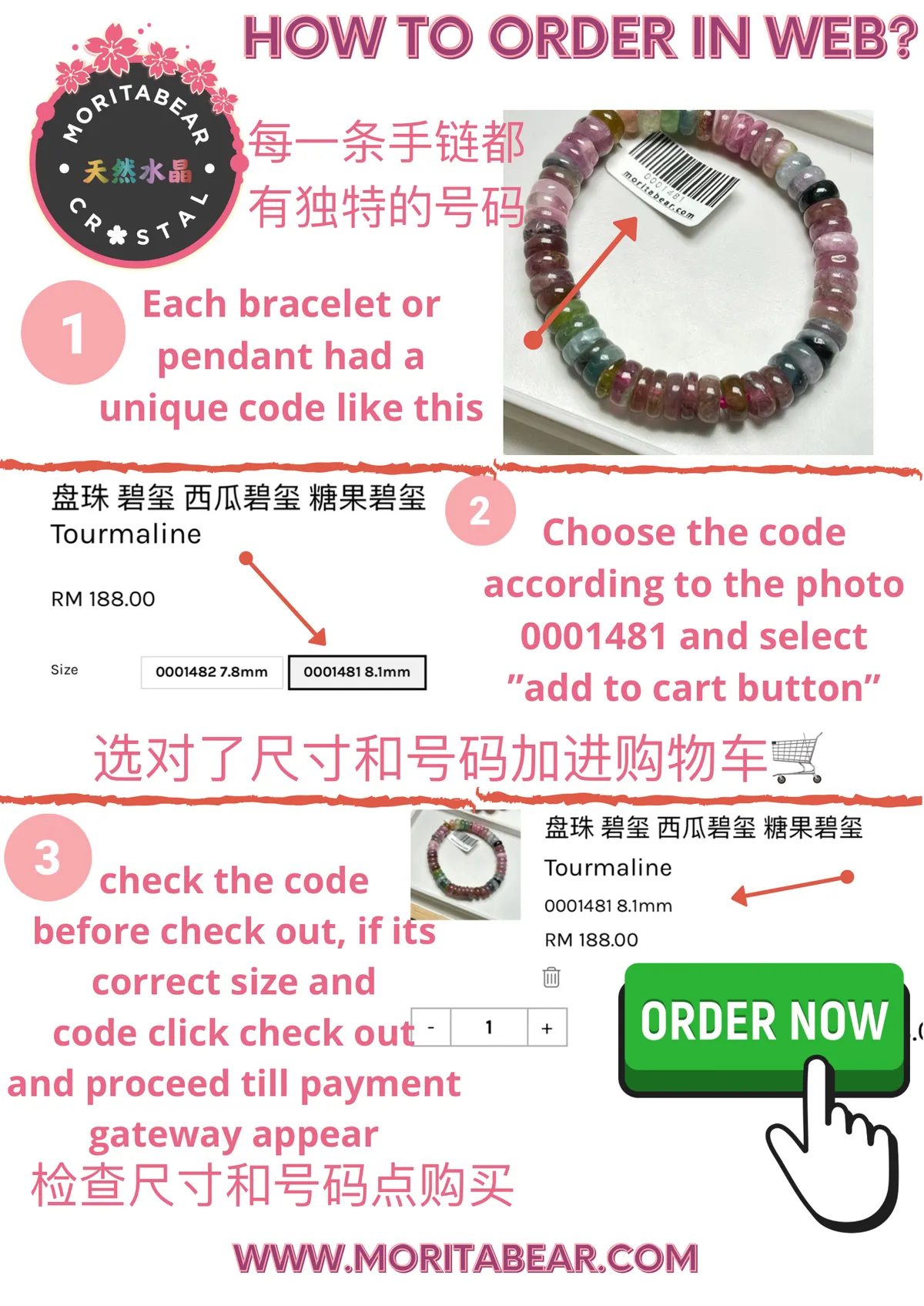 If you re look for fashion jewelry stones or crystal, you've come to the right place. We have more than 500 selection ,enjoy 5% off for purchase above rm200 for west malaysia only, 5% discount apply for purchase two item onward.
SHOP NOW
Malaysia Company registration (ssm) Moritabear Enterprise (002802484-X)

We are malaysia crystal trading company run by a single lady owner with sincere and trustworthy , welcome to ask
Founder of Moritabear Enterprise "i love hunting good quality jewellery " im a assesories collectors since i was young.i love to collect things special, limited edtions. Travel around the world make me expert in my hunting, i feel very comfortable when jewellery and crystals hanging around me,and soon i started a business page at the year of 2017 , Thanks to all my supporter during this few year back, its my pleasure to serve you in future.
sincerely from
Cindy
Founder of Moritabear Enterprise
翡翠 粉翡翠 pink feicui jade 5.8mm
RM 108.00
Add to Cart
great

好开心可以成为幸运儿,获取店主送出的手串。 非常的喜欢 😘 ,因为这款碳酸盐玉主要功效是针对健康,对我来说非常重要 店主的服务态一级棒,虽然我没有向店主购买商品,但是对于我的任何疑问,都会一一解答,而且出货适度也非常快,最要紧水晶货真价实 非常值得推荐

棒棒哒

真心介绍👍樱花🌸娘娘❤ 都是美美滴货品质量😍 物有所值👍 用心对待顾客👏 真心介绍货品👍 老板娘还是一位🌸美美开心果😄 一句话……找她(🌸娘娘)。妳会觉得"为什么不早点认识🌸娘娘

非常好

三天内就收到包裹了,有很快!阿娘有用心地把水晶们包裹得很好,整个包裹收到时很扎实很安全!也感谢阿娘送出的礼物 ❤️ 祝樱花娘娘Ong啊Huat啊Heng啊!

非常棒棒

手镯美美哒💖💖,性价比高。 娘精挑细选美货给我们。 绝对是美货👍👍

good

娘娘果然不是叫爽的,第一次和娘娘买水晶,获益不少长知识了.... 但愿以后还有合眼缘的水晶可以入手