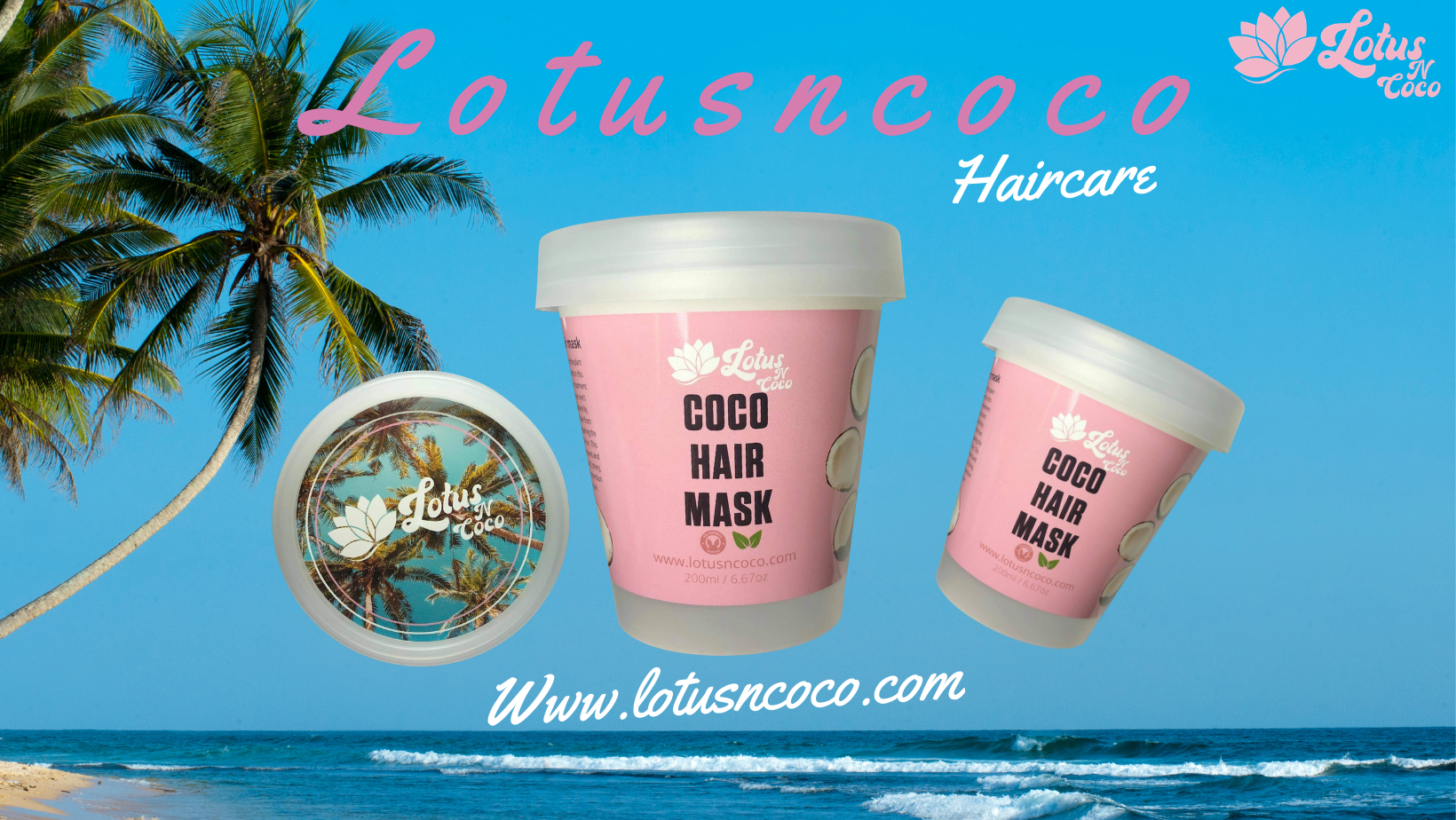 COCO HAIR MASK MAIN INGREDIENTS
Cocos Nucifera (Coconut) Oil

Cocos nucifera oil, also known as coconut oil, is a plant-derived fatty acid oil extracted from the rich white lining (or meat) of coconuts.

Aloe Barbadensis (Aloe Vera)Leaf Juice

Regular use of Aloe Vera in your hair has been shown to repair dead skin cells on the scalp, promote hair growth, prevent itching on the scalp, reduces dandruff and scalp conditions, acts as a great conditioner and leaves your curly hair smooth and shiny.

Olea Europaea (Olive) Fruit Oil

Olive Oil is rich with oleic and linoleic fatty acids and is very nutritious for your hair and scalp, helping hair stay healthy

Simmondsia
Chinensis(Jojoba)Seed Oil

The oil can also moisturize the scalp and may be a dandruff remedy. Jojoba is rich in vitamins and minerals that nourish hair, including vitamin C, B vitamins, vitamin E, copper, and zinc. Because it strengthens hair, it is also thought that jojoba oil can prevent hair loss and promote hair thickness.

Butyrospermum ParKii (sheabutter)

Butyrospermum Parkii (Shea) Butter is a key ingredient. Shea Butter nourishes the hair with Vitamins A, E and F. ... These fatty acids are believed to soothe, hydrate, balance and revitalize both the hair and the scalp

#lotusncoco
#hairmask
#veganfree
#crueltyfree
#naturalingredients
INGREDIENT EXPLANATiON FOR COCO HAIR SHAMPOO


Sodium cocoyl glycinate, referred to as glycinate, is an amino acid based mild surfactant derived from natural coco fatty acid and amino acid glycine. It is available in powdered and liquid forms. The mildness and attributes of glycinate favor its usage in hair shampooAs a cleansing agent, sodium cocoyl glycinate is considered mild and non-drying. It's one of the few cleansing agents that naturally produces a creamy-feeling lather. It's considered safe and non-irritating to skin as used in cosmetic products.

Sodium Lauroyl Glutamate
Sodium Lauroyl Glutamate is derived from glutamic acid (an amino acid), lauric acid (a fatty acid derived from renewable plant resources) and sodium. It is used as a gentle cleanser more suitable for sensitive skin. INCI Name: Sodium Lauroyl Glutamate.

POLYQUATERNIUM-7
Polyquaternium 7 acts as an excellent cationic conditioner for skin & hair. It is especially useful in surfactant based systems such as shampoo. Polyquaternium 7 is a very good detangler and provides slip for easier wet-combing. In addition, it will add softness and shine to dry hair.

Melaleuca alternifolia, commonly known as tea tree, is a species of tree or tall shrub in the myrtle family, Myrtaceae. Tea tree leaf oil.

haplocalyx oil = Peppermint Oil for itchy hair scalp

Borneol While it is especially known to help alleviate pain and inflammation, borneol can also be used for digestive issues, improving circulation, encouraging relaxation while fighting fatigue, as well as decreasing stress and anxiety.

Simmondsia
Chinensis(Jojoba)Seed Oil

The oil can also moisturize the scalp and may be a dandruff remedy. Jojoba is rich in vitamins and minerals that nourish hair, including vitamin C, B vitamins, vitamin E, copper, and zinc. Because it strengthens hair, it is also thought that jojoba oil can prevent hair loss and promote hair thickness.

Benefits Of Glycerin For Hair
Glycerin is a popular emollient and can soften the hair. It can act as a heat protectant as it minimizes heat damage (1). It may also balance scalp pH levels and minimize the damage caused due to alkaline changes. Glycerin may help reduce dandruff

The Centella asiatica acts as a fortifying agent that nourishes the hair follicles and scalp and priming it for a healthy hair growth. It helps in improving blood circulation, allowing the proper flow of oxygen and nutrients to the scalp.


---
Sorry, there is no product in this collection